Curated by Alex Gingrow and Michael Scoggins for BFP Creative.
Join us Friday, September 11th at 6pm for the opening reception of MAKER MARKS, a group show curated for BFP Creative by artists Alex Gingrow and Michael Scoggins. This show can be seen in our large gallery, 105. It opens concurrently with NEW MISTRESS VS. OLD ATHENIANS, a solo show of work by Craig Drennen in gallery 104.
Featuring work by: Man Bartlett, Ghost of a Dream, Shanti Grumbine, Jessie Henson, Delanie Jenkins, Lindsey Landfried, David X. Levine, Joe Nanashe and Amanda Tiller.
Temporary Storage Gallery (large gallery 105)
119 Ingraham St., ground floor
Brooklyn, NY 11237
September 8th-October 9th / Opening reception on September 11th, 6-10 pm
Gallery hours (other than receptions and posted events): Wednesday-Saturday, 12-6 or by appointment. Contact 646-491-1730 or creative@brooklynfireproof.com to schedule your visit.
Big Droop by Lindsey Landfried. Acrylic on folded paper, 72"x96", 2014.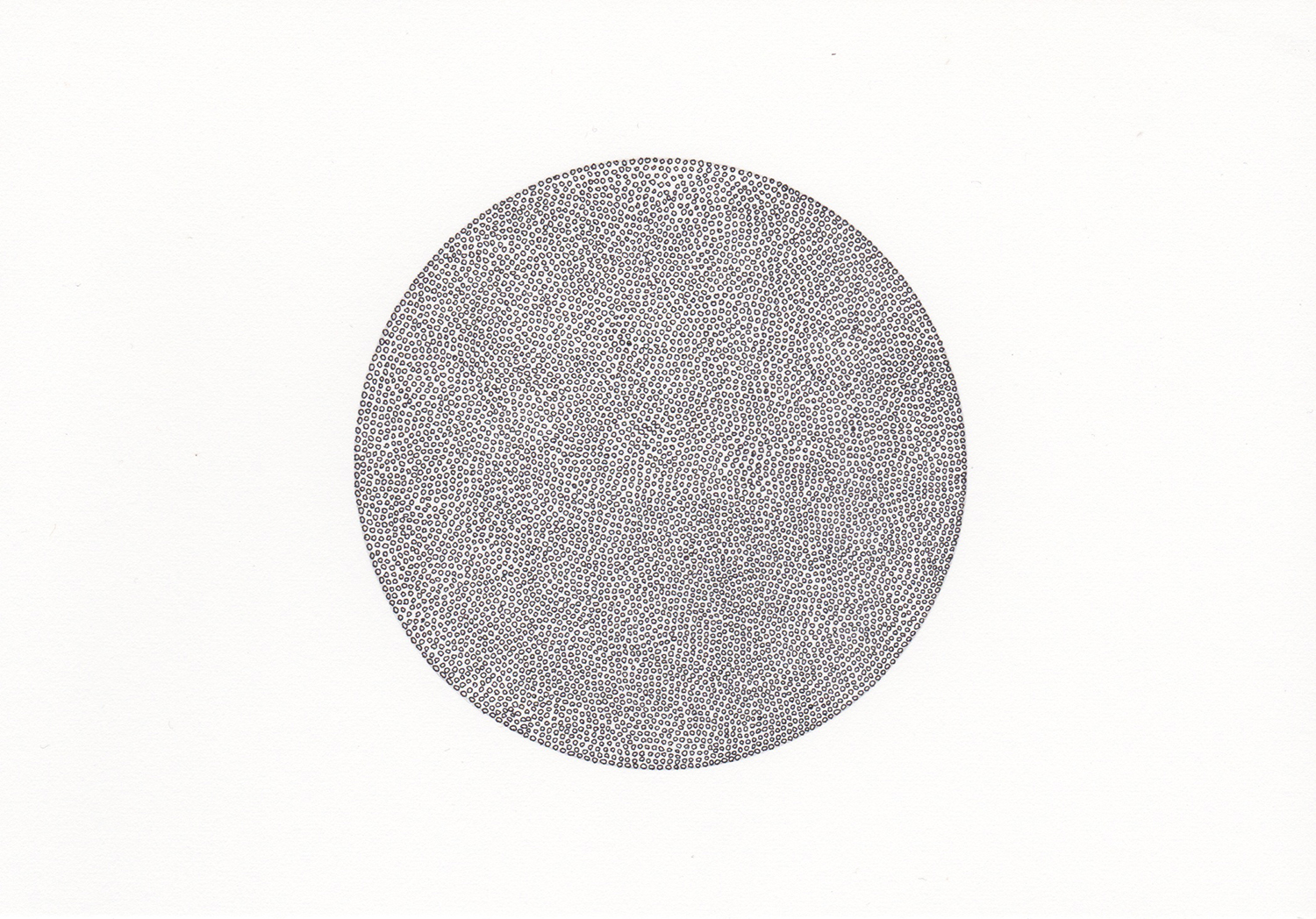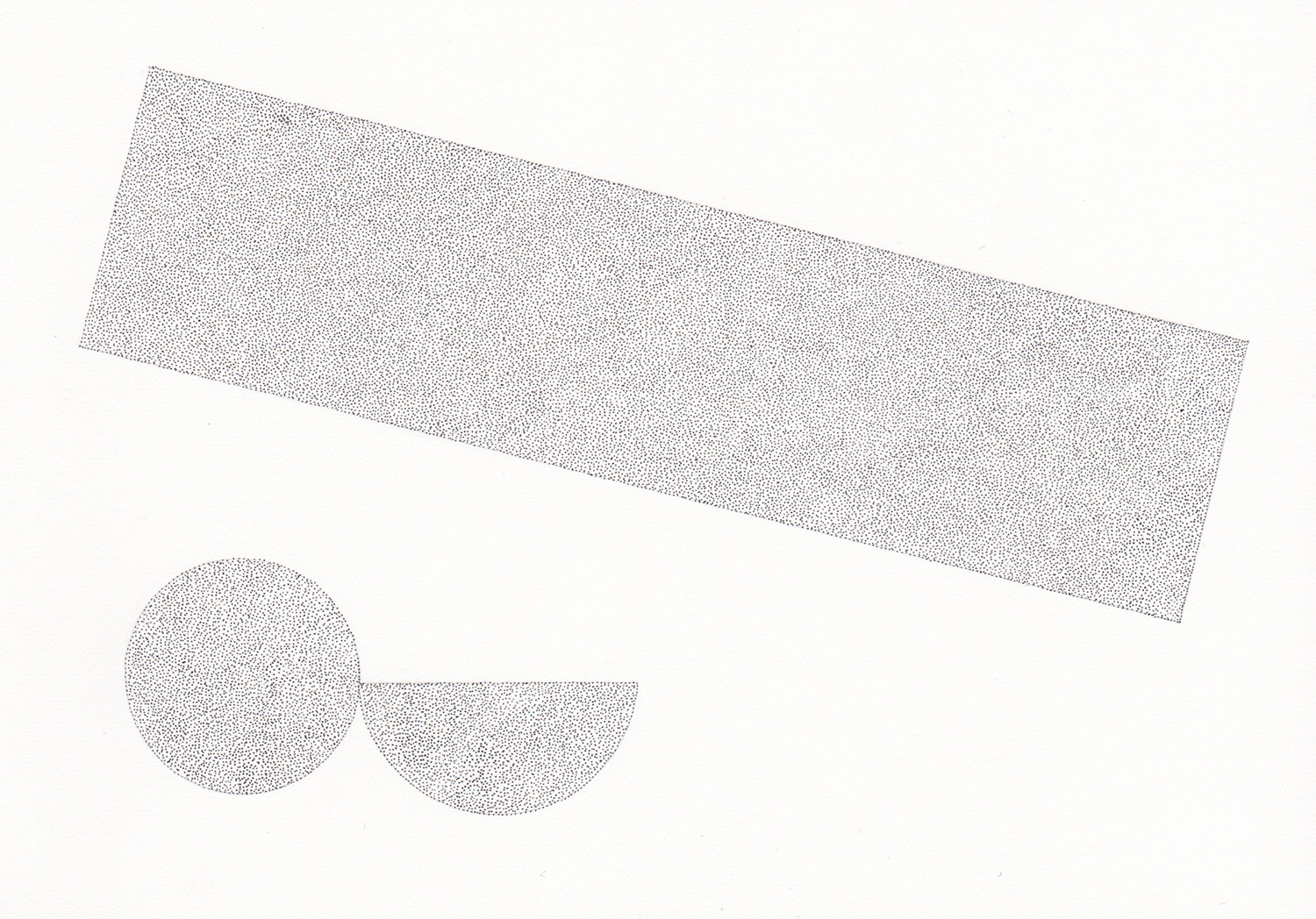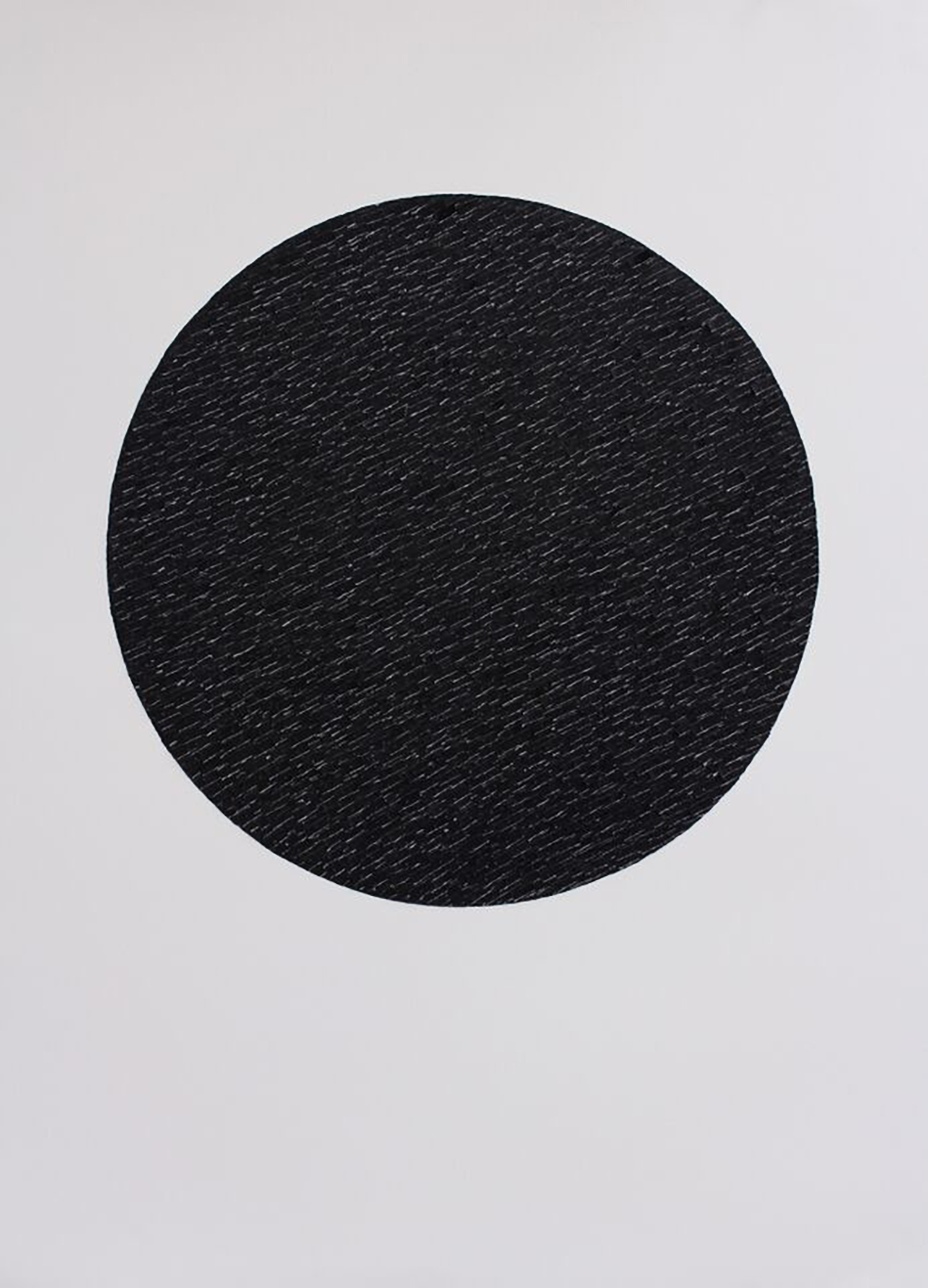 Whether it is an attempt at transcendence, an homage to the practice of meditation, or an effort to assuage one's internal echoes and maladies, the practice of repetitive mark making in art carries both the weight of history and the suggestion of the sublime. The repetitive mark is performative in its essence and is a manifestation of the passage of time. Buddhist and Hindu practitioners have embraced this practice for centuries in the elaborate sand mandalas they create as a meditative act. They engage the hand in a repetitive motion so that the mind is free to wander. Similarly, the floors of Italian cathedrals and basilicas are often decorated with elaborate repetitive tile work, a mark meant to occupy the eye, satisfy the brain, and encourage transcendence of the spirit.
In a world where time is increasingly of the essence, the artists in Maker Marks cultivate the passage of time as a medium. Similarly, the art world has, in its own way, become insistent and petulant in its demands for constant expediency; it is increasingly more and more concerned with rapid production, market value, investment potential, new work for the never-ending circus of art fairs. These artists are working in contradiction to these ever-rushing, fever-pitch trends. Their mediums are not only thread, color pencil, tape, pen, and paper, but also time, endurance, and discipline.
The work in Maker Marks is equally demanding of its viewers. It beckons the viewer to come closer, to inspect the intensive crafting, the mark of the artist's touch. The works often defy photography in their subtlety, thus making it necessary to experience the art first-hand. The work changes with every step of approach. It begs its viewer to wonder at the process, to imagine the time involved in the work's creation. This is work that, unlike the large, flashy, loud images that populate the temporary walls of so many art fairs these days, is meant not for two-second selfies, but for contemplation, consideration, and ultimately for empathy.
-statement by curators Alex Gingrow and Michael Scoggins
MAN BARTLETT
Man Bartlett (b. 1981) is a multidisciplinary artist who lives and works in New York. His diverse practice includes sound, drawing, collage, video, performance and digital projects that use online platforms as outlets for playful yet subversive social critique.
"My drawings follow the tradition of meditative mark-making, guided by an awareness of the act of the pen on the paper over time. They seek to balance an organic chaos within the defined boundaries of a structured plane. As a subtle way to highlight the durational and performative aspects of the drawings, they are titled according to the date they were finished."
GHOST OF A DREAM
"Our sculpture, installations, collages, videos, and drawings embody the essence of opulence while being constructed of materials that typically end up in the trash. We mine popular culture searching for discarded materials that people use trying to reach their goals. ...We use these remnants to re-create people's dreams, and portray the dreamer.
[The piece included in Maker Marks] is made from individual artists' show invitations. We thought about it, and the invitation is the Artist's lottery ticket. It is this valuable thing we put so much energy into. We think it will get us to the next place if we give it to the right collectors or curators; and then as soon as the exhibition is over, it is a worthless piece of paper. So we thought it was the perfect material for us. Better than the lottery ticket even, because it is so personal to us, and the art world, and actually about our own hopes and dreams. Another fantastically enjoyable thing about making this piece is making a work of ours out of the images of so many other artists."
SHANTI GRUMBINE
Shanti Grumbine lives and works in New Paltz, NY and Brooklyn, NY. Grumbine transforms print media through paper cutting, collage, sculpture and printmaking--making space for what has been censored and lost in the translation of experience into words.
"Kenosis" is an ancient Greek noun for emptiness or an emptying. In my series Kenosis, I erase and excise images and remove each line of text from the New York Times newspaper with an X-ACTO knife leaving behind a delicate skin of lace. By engaging my hand in the intricate process of paper cutting, I slow down my experience of tragic news content. This ritualistic act of beauty becomes both a critique and a commemoration."
JESSIE HENSON
Henson received her MFA from Rutgers University, the School of Mason Gross, and her BFA from the Corcoran College of Art and Design. Henson has exhibited internationally, including in New York, Los Angeles and Mexico City. She was an artist-in- residence at the Bemis Center for Contemporary Art in Omaha, Nebraska in 2010 and 2013, a Create Change Fellow at the Laundromat Project in New York, and has participated in the AIM program at the Bronx Museum of Art. She has also been a resident at the Vermont Studio Center, supported with a full fellowship by the Joan Mitchell Foundation. In 2013 Henson was the Windgate Fellow at Urban Glass in Brooklyn.
"By examining the everyday materials of our lives, my works attempt to negotiate the fragility and mystery of the world, while searching out the sublime and the possibility of wonder. My work explores the tension between the concrete reality of ordinary life and the search for escape through fantasy and whimsy, making visible an interior world of both play and conflict. Through collecting objects, accumulating stitches, lines or circles in drawings and sculptures, I am creating worlds to exist within. These worlds reflect the colors, shapes and patterns of the natural world while using and referencing the man-made. This series of thread works takes the domestic art of sewing and turns it into an aggressive act of drawing."
DELANIE JENKINS
Delanie Jenkins is a Pittsburgh-based artist originally from Dallas. A prior career in architectural design cultivated a physical awareness in the constructed environment, which transformed through art making into site-specific, installation, and performance works.
"Grounded within a collage aesthetic, my work resides within an assemblage-meets-minimalism sensibility. Typically working with an overabundance of modest materials, ideas intersect with a process of pseudo-scientific observation and experimentation to transform and hone – an industry of repetition frequently offers an organizing approach. My recent use of tape evolves from strategizing how best to deal with tape-as-residue, after plotting compositions for large wall installations. In considering the tape as material itself, I experimented with archival adhesives and color to probe material limits. Initially using the torn edge of screen-printed tape as a drawing line, I now draw onto the painted tape surface with watercolor pencil. The unintentional imprint of the hand when handling the tape mars and slightly smears the mark offering the opportunity to play with optic effects that shift with proximity."
LINDSEY LANDFRIED
Lindsey Landfried currently lives and works in State College, PA.
"Working between painting, drawing and sculpture, my works on paper are accumulations of text-sized loops. I exaggerate a single mark to a point dangerously close to absurd. Through my repetitive process, I investigate dichotomies of hand versus machine, casual versus monumental, and monotony versus meditation. The drawings appear as documents of a stable process-- the same motion again and again. However, the resulting surface is marred, noisy, staccato, and inconsistent.
Recently, I have endeavored to discover how the scale of the mark and the weight of the material can act in concert. For example- a tiny mark on cotton rag paper. The structure of the cotton rag paper is a grid, and when the mark has a weight and density similar to the weight and density of the fibers of the paper, the mark seems inseparable from the material. The mark making isn't on the surface but instead feels integrated. When this integrity between mark and material is accomplished, the resulting drawings are no longer images but a new material. In the case of the tiny mark on cotton rag paper, the drawing becomes like a textile, not like a drawing of a textile, but a sheet of paper acting as fabric."
DAVID X. LEVINE
David X. Levine was born in Boston, MA in 1962, and has been living in New York City since 1998. Levine's work has been the focus of more than a dozen solo exhibitions, including shows at Tony Wight Gallery in Chicago, Dust Gallery in Las Vegas, Eight Modern in Santa Fe, and Boston University. Group Exhibitions include shows at both Spencer Brownstone and The Still House Group in New York City, and both Honor Fraser and Cherry Martin in Los Angeles.
JOE NANASHE
Joe Nanashe was born in Akron, Ohio and now lives and works in Ridgewood, NY. The city's post-industrial landscape and emphasis on manual labor influenced the repetitive, task-driven nature of his work. His interest in the time-based perceptual aspects of sculpture led to his movement into installation, performance, and video. His work confronts the viewer with issues of violence, control, meaning, humor, perception, and the body.
"This work was essentially 7 years in the making. The first very crude study was made in 2001. "Sunset Blvd" was edited down so that all that remained was the name "Joe." ...I returned to this idea around 2006, beginning by pouring through IMDB for films with characters named "Joe". Editing down 144 films to the name Joe and the exclamations, commands, or brief sentences that contained this name, each film becomes an exploration of how the character is constructed from the outside in. These 3 works were early studies to see how narrative could be constructed with zero continuity besides the constant refrain of the name. Simple narrative devices are linked together to create a single abstract and threadbare contain of a single identity. Joe morphs and is malleable, becoming whatever the surrounding characters, narrative, or audience wants him to be: celebrity, sexual carnivore, or dead body."
Click to read Joe's complete statement about the project.
AMANDA TILLER
Amanda Tiller was born in Bristol, Tennessee in 1981 and currently lives and works in New York City. Through her labor-intensive projects, Tiller investigates our ability to retain facts in our current "information age" using her own memory as a case study. Her work spans various media including drawing, printmaking, sculpture, embroidery, and video. She has exhibited in New York, Japan, and across the United States, and was invited to be a resident at the Wassaic Project in 2011.